Penny Candy Store by John Collias
The picture above reminds me of Bill's Market, a small store in the community where I grew up. I have fond memories of my mother taking me and my younger sister, Teresa, there to get penny candy. The candy was kept behind the clerk's counter which made it impossible for children to see ( I'm sure that was the whole idea). I remember my mom lifting Teresa and me, so we could look at the candy over the counter and tell the clerk exactly what we wanted. He would then place the penny candy in little brown sacks, one for my sister and one for me. Here are a few of the sugary treats I'd choose...
Bazooka Bubble Gum
Sixlets
Tiny Wax Bottles
. The liquid inside was pretty much tastless.
Jolly Ranchers
Tootsie Rolls
Smarties
. For some reason, we liked to dissolve these in water.
Licorice
. My sister liked black licorice. I hated it and stuck with red.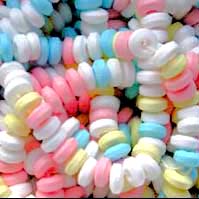 Candy Necklaces
...loved these, but couldn't figure out why our necks got so sticky.
To see more of John Collias's artwork, visit his website at
http://www.johncollias.com/
.